Popular Pinterest niches tend to get more traffic and have a higher chance of growing faster, but they're also the most competitive and brutal niches to conquer.
But when there's hope, there's Clicks, and when there's more hope, there's more clicks!
So Let's join hands and figure out how to have a popular Pinterest account in any niche (the smart way!)
Greetings Pin People, Rylan here, and on this channel, I discuss Pinterest marketing tips, strategies, and everything else that gets you a good sleep at night!
In this article, I'm going to share a simple 5-step roadmap that will get you from 300 views to 1 million views a month (Applicable for all niches).
Let's go!
Step 1: Estimate Niche Audience
Not all Pinterest niches are created equal.
So here's how you decide if the niche you are interested in has the potential to grow, drive traffic to your website and make money!
Because that's basically what we're all interested in right?
Head over to Pinterest, and in the search bar type in your niche.
I'll choose Gardening as my niche and hit enter. Then click on this dropdown, and choose People.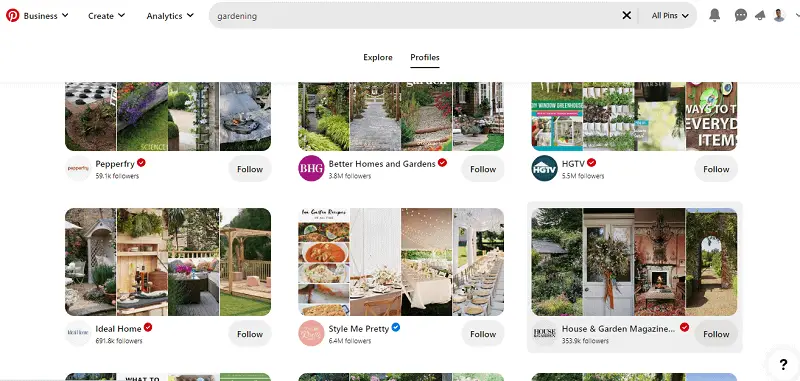 What you'll see now are all the Pinterest Accounts that are a part of the gardening niche. Some accounts may be slightly related to our niche, so we'll ignore them.
Our focus should be on accounts we know belong to the gardening niche.
Right-click and open a few accounts, check out their followers and monthly views, and randomly check some pins to see if they get comments on their Pinterest pins.
If they have a large number of followers, monthly views are in hundred thousand or millions, and they get comments on some of their pins, it means there are millions of Pinterest users interested in that niche.
If you have a good Pinterest marketing strategy, you can grow, get visits to your website and make money in the process.
Some micro niches may not get 1 million monthly views, and that's okay as long as they're getting more than 50,000 monthly views.
That's the number I use to determine if pursuing a niche is worth my time and effort.
Step 2: Follow People In Your Niche
Once you've established your niche, create a business account, fill in all your details, add keywords wherever necessary and claim your website.
Then make a list of all the people in your niche using Pinterest to grow their online presence or drive traffic to your website.
Use the same process we used in Step 1 to find these people, then follow them.
Also, don't follow more than 15-20 accounts in one sitting, as Pinterest bots may catch hold of this and put a temporary stop to your account for following other accounts.
There's no limit to this number, but if you get a warning from Pinterest or it puts a temporary stop, unfollow a few Pinterest accounts for the time being and follow them after 24 hours.
And don't spam follow accounts on Pinterest. We need to sound genuine and following people randomly will create a bad rep for you!
Step 3: Create New Niche Boards
If you can create the right boards to target the right audience in your niche, your chances of growing on Pinterest drastically increase.
So how to create the right boards for your Pinterest account?
Let's say you're in the personal finance niche, name your boards something like – budgeting tips and tricks, Investing for beginners, or Making money online.
If you're in the healthy food niche space, then Keto Diet Plan Ideas, Vegan Gluten-Free Recipes like this Pinterest account, and Easy vegan pancake recipes are some good Pinterest board ideas.
Optimize your boards for search by including keywords in your title and description that align with your specific niche.
Also, if you can't think of keyword-rich ideas for your Pinterest boards, do what you did in Steps 1 and 2!
That means Get Ideas from other Pinterest accounts by checking out how they name their boards.
You'll easily get at least ten board ideas.
Then Go to your home page and create these boards one by one.
Add some pins to each board so that Pinterest starts spreading your pins and boards to other people interested in your content!
When your boards are structured well and have relevant keywords, your account will be found on Pinterest search much faster.
Step 4: Join Group Boards
So while most people prefer not to use group boards, I like using them to increase engagement on my underperforming pins.
Group Boards aren't as good as they used to be, and most Pinterest marketers don't bother using group boards but
What I do is randomly re-share a few pins every alternate day to increase engagements on some underperforming pins.
Every time I re-share a pin on a group board, I see an immediate increase in clicks and saves!
Group boards aren't as popular as they once were, but they should be a small part of your Pinterest marketing strategy cause they are a part of my Pinterest marketing strategy!
Step 5: Niche-Based Content + Consistency
Pinterest is a platform to publish pins, right? So the best way to get followers, likes, saves, and those awesome clicks are by adding new pins to the platform every day!
The maximum number of pins to post per day is 30! Some Huge Pinterest accounts post 10 or 20 per day.
But if you are just starting, try publishing two pins per day consistently, Consistently being the keyword here!
On Average, I publish about 5 pins per day, and I seem to be doing good, so don't get stressed by those nasty big numbers. Phewwwww!
If you're a blogger, you can easily create pins from your blog posts using Canva and publish them on Pinterest.
I recommend creating 10 pins on the same topic but making minor changes in each pin like changing the color, image, or using a different title, because Pinterest likes new fresh pins, and our job is to give them what they want right?
Of course! Of Course!
Once you're done creating pins for your existing content, You need to repeat the entire process to continue growing on Pinterest.
That means creating new blog posts related to your niche, using Canva to create 10 pins for that blog post, and publishing those pins on Pinterest at regular intervals.
Growing Your Pinterest account and being popular in your niche is doable, but it will take time.
Most people fail at Pinterest because they quit too early and fail to see those massive spikes and daily traffic to their blog posts.
Pinterest is all about consistency. If you want to have a real chance at getting hundreds of clicks consistently, you have got to schedule pins daily.
Also, do you want to learn how to create multiple Pinterest Pins at once?
I've practically taken you through the entire process in this article and given some juicy tips to help you make the best Pinterest pin possible!
Cheers to creating the best pins ever!
Check out My Pinterest Account here – Rylan's Pinterest Profile!
Check out My YouTube Channel here – Rylan's YouTube Channel!