So the process of creating an amazing Pinterest Pin template is quite simple.
First, list all the keywords within your niche, then use Pinterest to find Pinterest pin template ideas, and finally, use canva to create your Pinterest Pin Template!
Today, I will show you how to make your very own Pinterest pin template from scratch!
Let's get right into it.
So the first thing to do is make a list of all the keywords you wish to rank for within your niche.
The niche I'll be choosing is the personal finance niche.
The most basic keywords in this niche will be how to make money, how to save money, investing basics, budgeting tips, best side hustles, and passive income ideas.
Now that I have a few keywords on my bucket list, let's head over to Pinterest.
We need to go to the Pinterest search bar and type how to save money.
So let's do that – how to save money. Hit enter!
We need to find pins that look attractive and deliver the message properly.
Our message is how to save money, so we need to search for pins that are eye-catching and crystal clear in our message.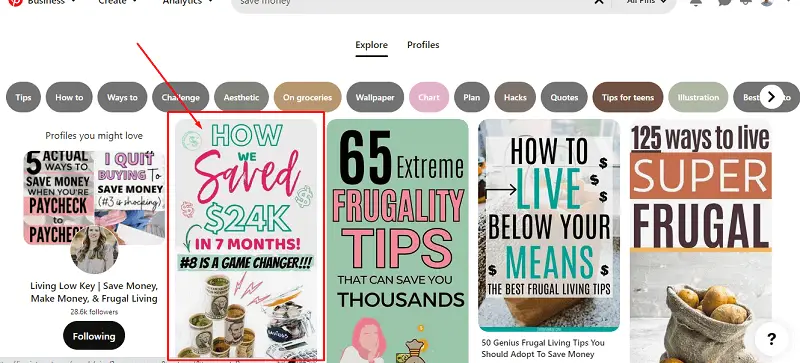 On a quick look, I find these pins to be quite attractive.
It states the message clearly, has an eye-catchy title, it's a creative Pinterest pin, and is something we can use for our future work.
Now I'm going to be repeating the same process for the remaining keywords, and then we'll catch on to the next step. 
Check out my Pinterest Account here – The Sage Millennial Pinterest.
If you're a graphic designer or a person who likes to brainstorm new ideas from scratch you can totally skip this step and start creating your template, but for the majority who are probably doing this for the first time getting inspiration from pins similar to your niche is a great way to creating your first Pinterest pin template, and also a great way to grow on Pinterest. 
Now let's head over to canva to design our pin template.
Canva is one of the best graphic designing tools to create stunning social media content for free. Its user interface is smooth, and it has thousands of free and premium pre-made templates for you to choose from that can make your work a thousand times faster!
Instead of brainstorming creative design ideas from scratch, you can use pre-made templates on Canva.
Here's how you go about it – Say you want to make a wedding card and you're searching for a really good template. Here's how you do it.
In the search bar, type wedding card, and hit enter. Once the page loads, scroll down and pick a few templates you like: For example, I think I like the dark blue template a lot.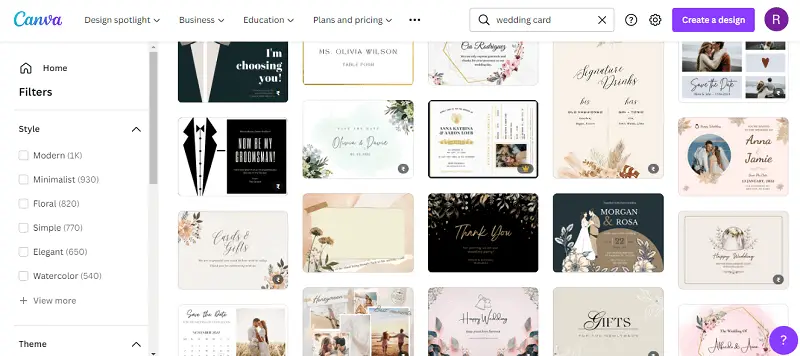 Once you find a template that you like, edit the names, make a few changes like changing the color, changing the font, the size, add some images if you want to.
Once you're done making all the changes, click on the share button and download .png or .pdf format.
Click on download, and your beautiful wedding card is ready. It's as simple as that! I use canva for all my design work cause it's so simple and quick to use.
If you like Canva and want to start using it, check out Canva's free plan and start creating! Okay, so once you open Canva, type Pinterest. 
These are all the pre-made templates that you can choose from. Take a quick look at it.
Normally, I'd suggest you pick any one of these templates and use that to create your Pinterest pins, but as this video is about creating a pin template from scratch, we are going to create our Pinterest pin template from scratch!
The first thing to do is write your website name at the bottom of the pin. Once you're here and you've written the name of your website at the bottom.
The next step is to look at all the pins we looked at earlier, and find out what you like the most, try to take that idea and generate it onto your Canva dashboard. 
Okay, that sounds simple! 
Contrasting colors do well while creating a Pinterest pin template, so we'll keep that in mind.
I also picked up that numbers are enlarged and highlighted, and texts in a pin have two different font styles. There's an arrow pointing to a keyword, so that's good! 
This is what my final pin looks like.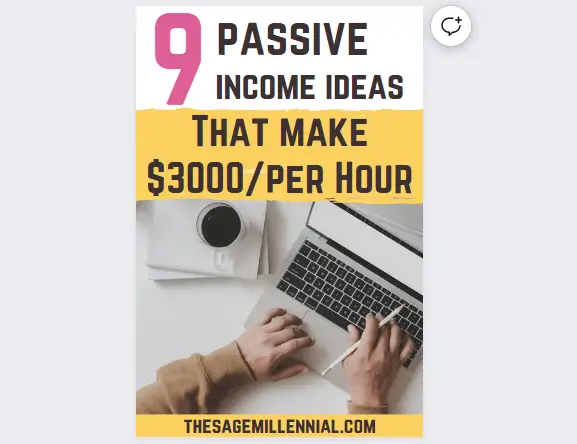 When you start observing top-performing pins in every niche, you start noticing some patterns in each of these pins, like numerals are usually enlarged to show their emphasis or contrasting colors are used to grab a user's attention.
Another common thing you'll observe is the bottom of every single pin usually contains a website link. Observe every single Pinterest pin to try and create those ideas in your Pinterest pin. 
You don't always have to put graphic images, you can also put stock photo images instead of using Google to find these images.
You can use Canvas's inbuilt library to find stock photos that suit your needs. Canva has a large library of free stock images for you to use at your disposal.
If not Canva, you can always use websites like Pexels, Pexabay, and Unsplash.
You don't need to have a Pinterest pin template ready at your disposal, but having a Pinterest pin template makes the process of creating pins much faster and easier.
We have created a template, but how will you use this to make pins for other blog posts?
Let's say the next topic to write on is 6 side hustles that make $1000 per hour.
Here's how we go about it – you can create Pinterest pins like this using the same template we used very easily.
Let's say you want to replace it with an image.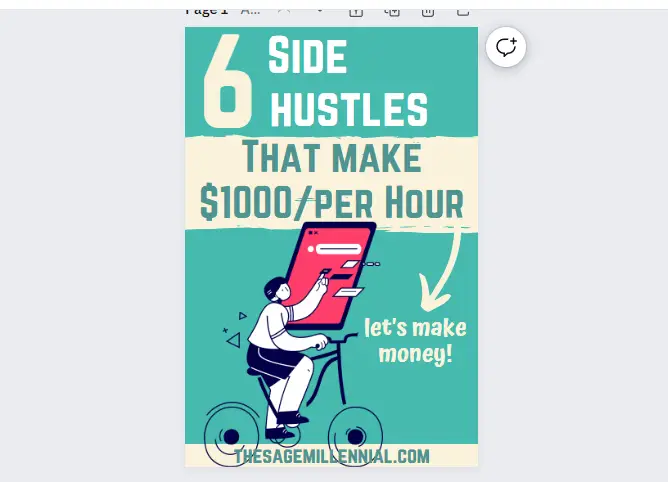 There's an image that shows you how the Pinterest pin looks that is quite attractive, and it only took me a minute to make it.
That's the advantage of creating a Pinterest pin template. It's handy, it's quick, and there's no stress on how your Pinterest pin will look because it's always going to look good!
Now that you know how to create a Pinterest pin template using Canva, I suggest you read this article next where I'll be taking you through a simple three-step process that most Pinterest marketers don't follow, but if they do would boost their organic growth on Pinterest! 
That sounds exciting!