Every time I use this strategy, I get more saves, clicks, and a spike in my engagement rates!
Nobody talks about this method anymore cause this strategy is not as effective as it once was.
But heck! Some engagement is better than no engagement right!?
I'm talking about Group Boards! 
Yea those boards where Pinterest marketers share pins to increase engagement!
First, let's go over some tips when searching for group boards.
Then I'll show you step-by-step how I search for and apply to group boards, and I'll shed some light upon the one thing you should never do when applying to these nasty boards.
I'm also going to share the exact email template I used to apply for group boards back in the good old days!
Greetings Pin People, Rylan here, and let's break down how you can get more clicks, saves, and higher engagement rates with Group Boards.
Lets Gooooo!!!
Tips To Consider When Choosing A Group Board
Name & Niche of the group board
The name of your group board should be something related to the niche you're interested in.
If you're in the Personal finance niche, search for group boards with keywords related to personal finance like budgeting tips, How to Make Money Freelancing, or Make Your Money Smartly.
You should also look at the description and pins of the group board to see if your goals align with that group board.
Don't forget to check the group board owners' profiles to see if they're publishing pins in the same niche or not. 
If the group board talks about personal finance but on their Pinterest profile, you can see parenting niche pins, that's a deviation, and you might want to reconsider if you should apply to that group board.
Number of Contributors
A good Pinterest group board has less than 250 contributors.
You can apply to bigger group boards if they're really good, but as a rule of thumb, target boards with less than 250 contributors. 
More contributors lead to more spammy pins, and that reduces the quality of your pins!
Active Group Board Members
Let's say we have 75 contributors, but just 2 contributors regularly pin to the board.
When contributors of a group board don't contribute well and only a few Pinterest accounts keep it moving, it's probably a shitty board!
On the other hand, if there are many active contributors but your pin analytics are still pretty bad, that means these active contributors aren't repinning your pins.
Avoid such group boards!
Search and Apply To Group Boards
Okay, now let's see how I search for and apply to group boards ensuring I get accepted most of the time.
To apply to group boards on Pinterest, the first and most important thing you need to do is GO TO PINTEREST.COM. 
I bet you didn't know that!
Once you're there, click on the search bar and type keywords related to your niche.
So say I'm typing "Personal Finance" hit enter, then click on the dropdown menu that says "All Pins" and select "Boards"
Pinterest will automatically give you a list of all boards with the Keyword "Personal Finance".
Right Click on each board and open it on a new tab.
Once you have some boards open, I want you to read their description one by one and see how you can apply and get accepted to their group board (provided there's an option to apply:))
Most of the boards you'll see are of popular Pinterest marketers in that niche.
You'll have to open each board to a new tab and search for group boards.
This is an extremely lengthy and time-consuming way to search for group boards. 
You could do this, but there's a better way to get the job done!
This time instead of choosing boards in the search bar, we'll click on "People".
You'll get a list of the best Pinterest accounts in the niche. Now, right-click to open a few accounts and check for the group boards that they're in.
An easy way to identify if a board is a group board or not is by looking at the bottom right corner of that board. If it has multiple circles, it means it's a group board.
Right-click on these boards and read their description.
Some group boards have the Join Button which you can click to join that group board. Others ask you to email them.
And some group boards don't accept any new contributors.
Ignore the ones that don't accept new contributors and focus on the ones with the join button and email opt-in options.
How To Email Group Boards (Pinterest Email Template)
Now that you've got an idea of how to look for group boards, let's look at how to email these group board owners.
Most Group boards have the Pinterest owner's email address in the description of that board. If it's not there, go to the group board owners' website and use Hunter.io to get their emails.
Hunter.io is a chrome extension designed to collect email addresses from websites.
If you wanna know how to use Hunter.io, check out my article on the best chrome extension for Pinterest marketers!
So when I was actively applying to group boards, here's what my email template looked like: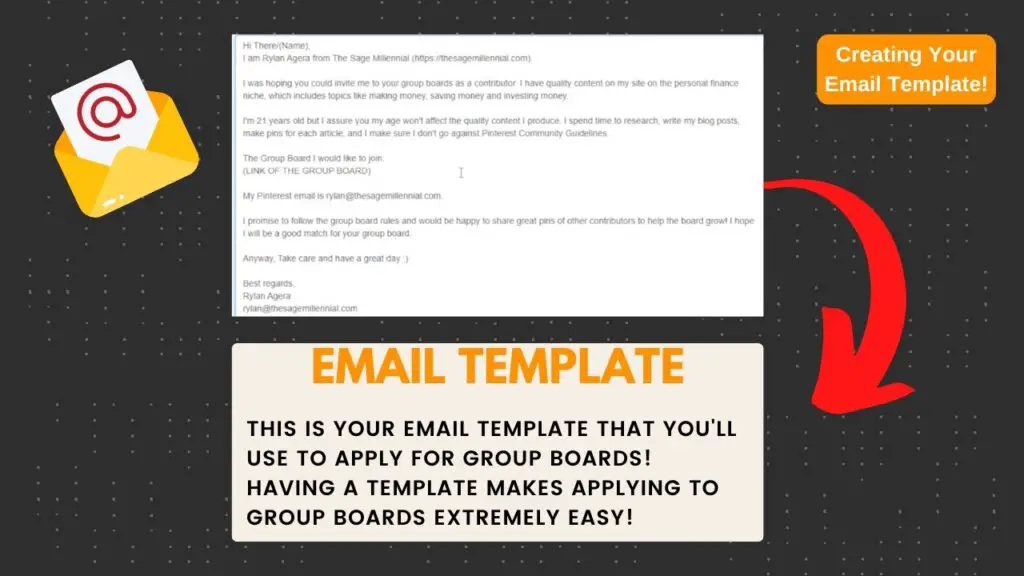 Emailing someone once you have an email template like I just showed you is really easy!
Even if there's a Join button on a group board, I suggest sending them an email as it only takes a few minutes, and there's a much higher chance of getting accepted to that group board.
Don't Do This (Pinterest Group Board Mistakes)
Now let's talk about the one thing you shouldn't do when applying to group boards!
And that's Never Ever message Group Board Owners directly on Pinterest. 
Messaging Pinterest account users directly on Pinterest is kinda considered Spam. 
Messaging one or two group boards won't get your Pinterest Account suspended, but if you keep messaging multiple people directly through the platform, you will be suspended.
The worst part is nobody usually replies to these messages, so you're risking your account being suspended for nothing!
Directly messaging on Pinterest was the reason I got my account suspended the first time, so trust me on this, don't message people on Pinterest! 
If you can't contact them through email or the join button, forget about joining that group board.
But if you already made this mistake and got your account suspended, read this article to un-suspend your Pinterest account. 
Wait, is un-suspend even a word? Lemme know in the comments!
Pinterest Group Boards Aren't Effective
Using Group Boards to reach new audiences and drive engagement was the key strategy 3 years ago but now Pinterest is reducing the distribution of pins to new audiences through group boards.
The reason Pinterest Decided to do that was simple.
Pinterest originally wanted group boards to be a place where contributors share ideas that help the average Pinterest viewer, and group boards become like a one-stop shop for a Pinterest viewer's needs.
For example, you browse Pinterest for Home Decor ideas and follow a group board that fits your needs and comforts.
Now all the ideas from this group board will get populated on your Pinterest account. This will get you to stay on Pinterest for a longer time.
But what happened is spam took over where today we see group boards having 500 or even 2000 contributors spam pinning pins every day.
Contributors ignore pinning limits and other rules stated by the group board owners and it becomes a messy place with low engagement, no regard for rules, and a not-so-good user experience for the average Pinterest user!
But not all group boards are spammy! There are golden eggs in every niche. 
All you need to do is search for it, click on join group board, email them, and wait till you get accepted by the group board owner. 
Then start pinning and following the rules mentioned by that group board owner!
End Of Group Boards?
So is this the end of Group Boards?
As long as you join boards with fewer contributors, and focus on keywords or a specific topic related to that group board, you'll see some positive results.
Don't heavily invest your time in the group boards you join cause they aren't as effective, but that doesn't mean it's useless!
Every time you share a pin on a group board, other contributors look at those pins and re-pin your pin if they like it!
What I do is open the Pinterest App on my phone, pick an underperforming pin, and re-share it on a few group boards.
That takes about 2 minutes of my time. 
You can do this every day to get more saves and clicks on those pins!
Growing your Pinterest account is obviously important, but what's more important is figuring out a way to make money. And it all starts with Growing your email list. 
Lucky for you, I have an article talking about the best way to grow your email list with Pinterest.
You know what they say – The Money is in the List – Email List!
Cha Chinggggg!!!!
Check out My Pinterest Account here – Rylan's Pinterest Profile!
Check out My YouTube Channel here – Rylan's YouTube Channel!