Believe it or Not Email Marketing Works!
But the process of collecting emails is Frustrating.
You constantly create new opt-ins on your website and try different calls to action, but nothing seems to work.
And right when you give up on email marketing, digital marketing experts like Neil Patel say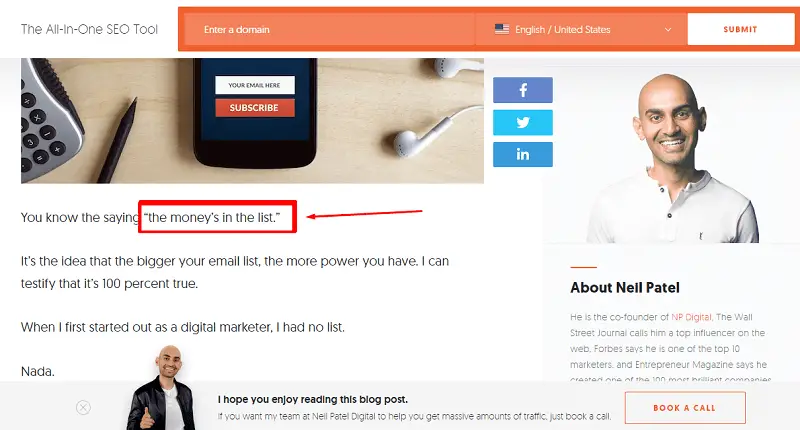 Today let's see how you can grow your email list with Pinterest to a point where you can passively collect about 5 or even 100 emails per day.
Yea it's possible if done correctly!
I'm going to show you two ways to go about growing your email list, but there are a few things you'll need to do before you start implementing these two methods.
Optimise your Pinterest Profile
The first thing I need you to do is to Optimise your Pinterest Profile!
That means you should add relevant keywords to your title and descriptions so people can use that to search for you.
Also, Don't forget to add a link to your website or an opt-in landing page.
Focus on uploading fresh pins on the platform every day, put up 1-2 story pins each day and reply to every single comment you receive.
Join relevant group boards and start re-sharing pins similar to your niche. 
Pinterest is a social media platform and a search engine. The more you interact with the platform and your audience, the faster you'll see your account grow and the faster you'll see your email list grow.
The next thing you need to do is Create a Convertkit Account. Convertkit is an email marketing platform that collects emails using opt-ins and landing pages.
It's one of the best tools to collect more email subscribers.
They have a free plan that lets you create sign-up forms and landing pages, create custom tags, and segments, and collect insightful data on your subscribers! Convertkit is what I use and what most digital marketers prefer.
If you want to grab their free plan, check it out – Convertkit Free Plan. 
Now that you've signed up with Convertkit, let's get into the two methods!
Method 1: Using The About Section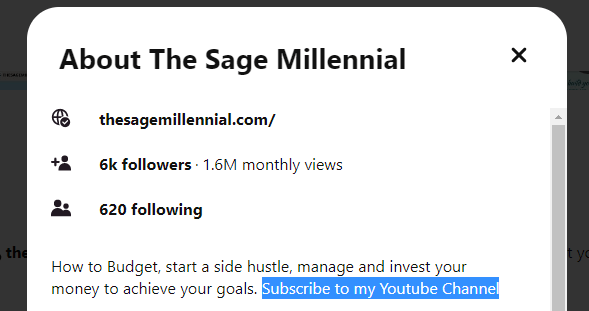 Pinterest gives you the option to add a website link and claim it so people can easily visit your website if they feel like it.
While that is the best way to get email subscribers, I couldn't edit my website link. In the public profile section, in settings, my website link is greyed out!
That means I can't change the link. Now there is an option to edit or change the link through the Pinterest App on my phone, but for some reason, that doesn't seem to work!
Technology!
So the next best option is to use the About Section.
If you have more than one freebie, you can use Linktree and add that custom link in the about section. Just add a small Call To Action before you add the link.
Something like "Click here to get 7 Pinterest marketing tips – (Add Link Here)"
You can also add this link to your social media handles to get more subscribers.
Check out my Pinterest Account here – The Sage Millennial Pinterest.
Method 2: Create Opt-In Freebies
Creating opt-ins and Pinning them on Pinterest is the best way to grow your email list.
Depending on your daily engagement and how valuable your free product/service is to your audience, you can easily expect to collect 10, 20, or even 100 emails per day (If you offer something Amazingly Awesome!
Achieving such great results is not easy! You'll need to test out what works and what doesn't, and accordingly create an effective strategy to collect emails using Pinterest.
The key thing to focus on while creating pins for your email list is to create specific pins based on your target audience.
What most Pinterest Marketers do is create generic pins like "Sign Up for my email list and get my best personal finance tips right in your mailbox"
This type of Opt-In converts well but a more specific opt-in tailored for most users would do much better, something like "Sign up for my email list and get my top 3 budgeting tips to reduce your expenses" You get the point?!
Being a little more specific and focusing on what your ideal audience needs will ensure you get more engagement with your pins. 
Freebies take very little time to make and if done correctly will double your email list in no time.
On my website, I have made 3 different freebies to collect emails. I use pop-ups on my website as well as Pinterest to build my email list.
Let's have a look at the three Pinterest pins I created –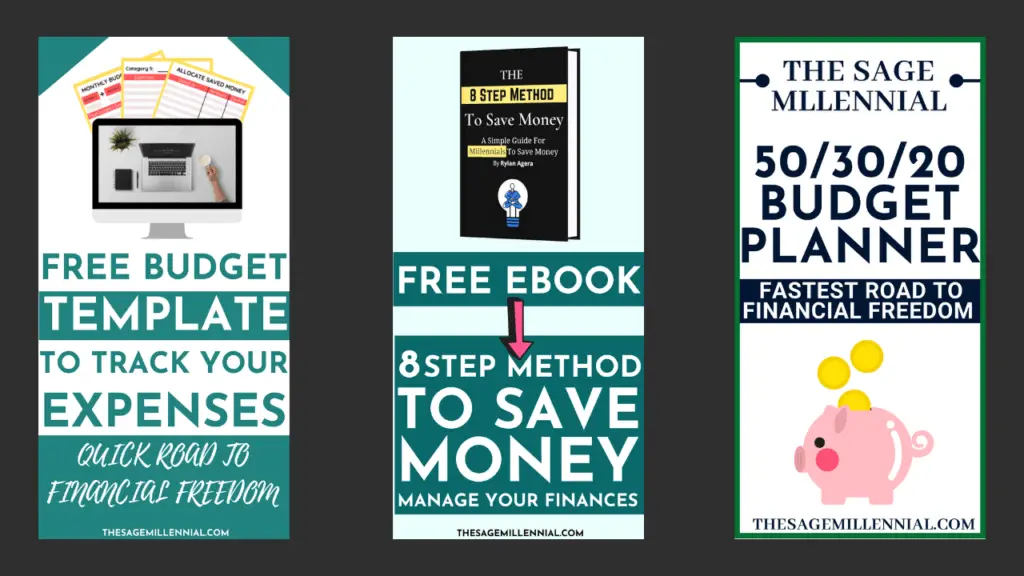 A great Pinterest pin aims to show exactly what you'll get in this freebie.
Add an image and text to show the people what you're offering, and add your website link at the bottom of the pin. And Don't forget to give it a bold Call To Action like:
Enroll Now!
Get this Free Budget Template!
Read my Ebook Today!
Limited time offer, Hurry Up!
The free offer ends in 2 hours
Then head over to colorhunt.io, pick a color scheme you like, and apply it to your Pinterest pin.
All these freebies need to be free! 
But they also need to provide value to the user. Before I created my freebies, I had taken the time to understand how budget templates work or how ebooks are made. 
My ebook is a starting guide for those who know nothing about money management and budgeting.
My Basic Budget Template caters to those who wish to start budgeting their expenses but need a standard systematic format to follow.
And my 50-30-20 Budget planner is for those who love Senator Elizabeth Warren.
No, no, That's wrong! 
For those of you who don't know, Senator Elizabeth Warren popularized the 50-30-20 budget rule in her book All Your Worth: The Ultimate Lifetime Money Plan (A great book, by the way!) that says 50% of your income goes towards your Needs, 30% towards wants and 20% for savings.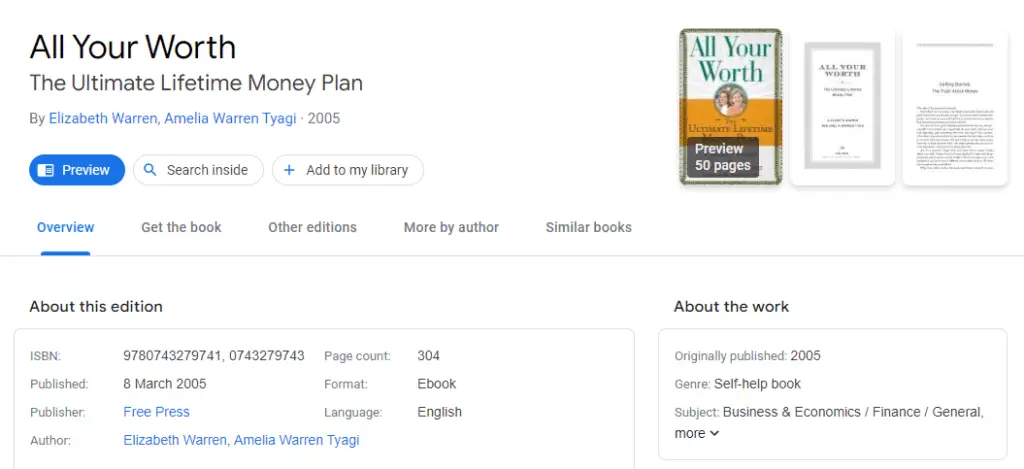 The 50-30-20 Budget Rule is quite preferred by many income earners, and that's why I created one to solve my viewer's needs!
So take some time to figure out what your viewers need from you, their pain points, and how you can help them solve their issues.
It could be a free online course, cheat sheets, printables or ebooks.
Once you decide what digital product or service you'll be offering for free, head over to Canva, add some design elements to make the freebie look attractive, upload it on your website, and create pins for your new freebies (Using Canva) upload them on Pinterest and see the Pinterest Seo do its magic by growing your email list!
If you want to see how I create Pinterest pins for my website using Canva.
The Landing Page
You've figured out your niche, thought of a product/service that your audience needs, and figured out a way to provide it to them as a Freebie! Congratulations 🙂
Now all you need is a landing page to convert these visitors to your email list. 
You can't directly use Pinterest to collect emails, so you'll need to spend some time crafting a landing page that will urge your visitors to subscribe to your email list.
You can use Convertkit's free landing pages, or you could Do It Yourself using your website's page builder.
When it comes to landing pages, depending on your niche and the type of free product you are planning on giving away, your landing page can differ.
That's okay! You don't need to copy my landing page or some famous digital marketer's landing page!
Instead, watch a few videos on creating landing pages, pick out a color scheme and start making your landing page.
Most website themes come with pre-made custom landing page templates that you can simply start using in a few clicks.
For my website and blog posts, I use the Kadence theme which has some really good templates that I can use to make my landing pages Amazingly Awesome!
Okay, so let's go through everything step-by-step.
Create a Convertkit account, create your highly valuable freebie, Pinterest pins for the freebie, and a landing page to connect everything.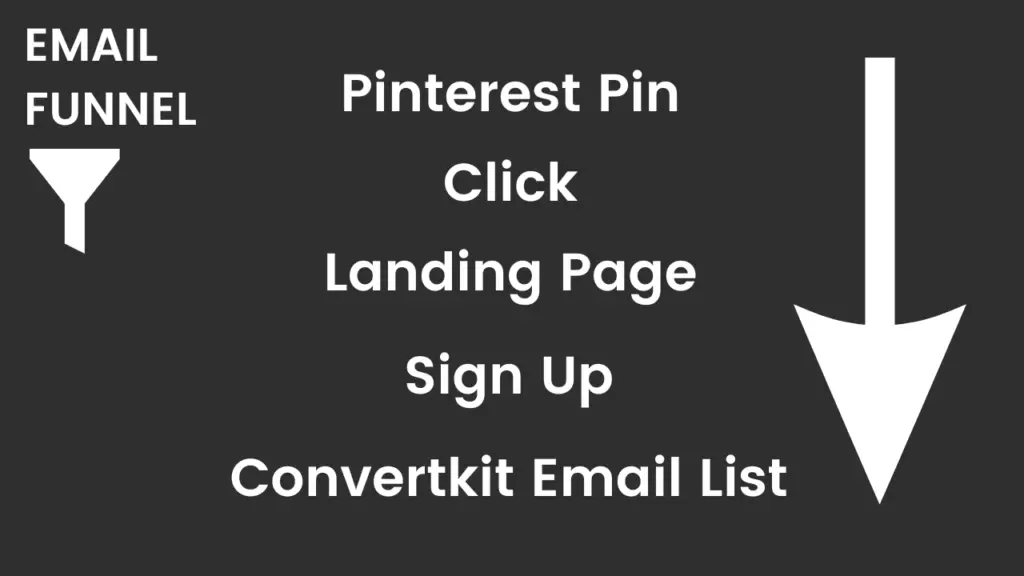 Then head over to Pinterest, add keywords in your title and description, link your landing page and Schedule the Pinterest Pin to a board of your choice.
Easy, isn't It!
You should also create a pop-up or an inline widget and place it on your website to further grow your email list. Again you can do all this easily using Convertkit's forms and landing pages for Free. (click here to get your free Convertkit account today)
The above strategies work only if you put in the effort to optimize your Pinterest profile.
That means uploading rich pins and idea pins and using relevant keywords to increase your Pinterest followers, views, and overall engagement on the platform.
Once you set up a system for everything, getting emails consistently is easy! 
If you get stuck while building your Pinterest marketing system, leave a comment, and I'll get back to you, or simply watch another YouTube video or blog post explaining the solution to your problem!
We talked a lot about creating a great Pinterest Pin, but if you don't know how to do that, I suggest you check out this blog post next where I'll show you How I create a Pinterest pin template from Scratch!
Yea it's Amazingly Awesome!