You're putting in time & effort to make this work, but nothing seems to do the magic!
You're trying your best, but you're failing!
So are you going to pick up the phone and end this?
Is it time to quit Pinterest and move on to other Social Media Platforms? 
Here are 3 Reasons to stay on Pinterest!
3 reasons to stay on Pinterest
Reason No 1. You Know It's a Long Game
Growing on social media platforms or Google is not like a get-rich-quick scheme! It takes time, effort, and a lot of optimization! You can't magically start growing your Pinterest account from day 1. 
Your first few months will be bad! You'll see some spikes in your Pinterest analytics, but mostly it's below-average results!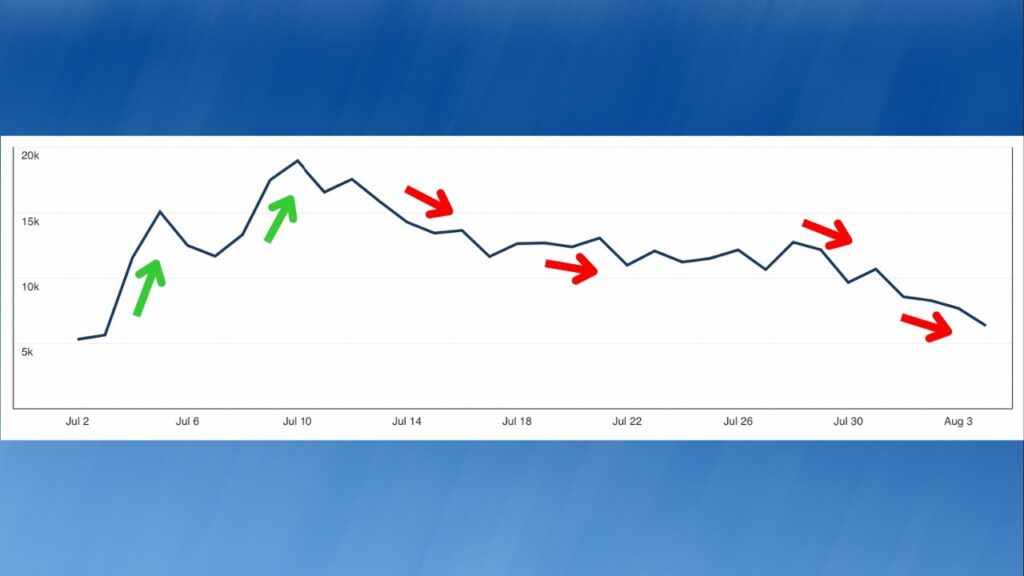 But after consistently publishing pins for a few months, you'll start seeing positive results. 
So if you have some patience, and you follow all the best practices I keep talking about in my videos, you'll get the success you desire from Pinterest! Just hang in there!
Reason No 2. No Traffic From Other Sources
You spend time optimizing your content for Google, Bing, and other social media platforms, but you don't see any substantial increase in traffic!
Search engines like Google take months, sometimes even years to index your content and place it on the Google search.
In such cases, it's better to diversify your marketing strategy and focus on Pinterest because it can add tens or hundreds of daily visits to your website and it's less complicated than the Google algorithm.
Reason No 3. You Like Ad Revenue
I hardly spend 2 hours a week on my website (thesagemillennial.com) and continue to get ad revenue consistently. 
Ranking on Google and getting a few daily visits takes a lot of time. Pinterest doesn't work that way. 
If you create pins your audience likes, your engagement rates will increase, and Pinterest will show your pins to more people.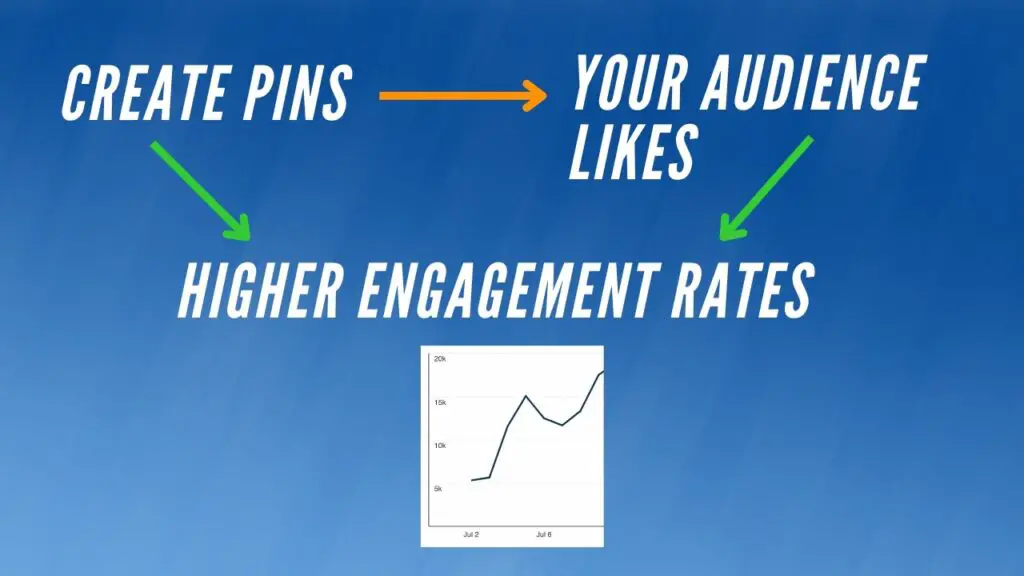 That means you'll start seeing some daily traffic to your blog post much faster than the Google way! And if you're running ads on your website, you're going to earn money!
When I say Ads if you thought of running Google Adsense on your site, I'm sorry, you're not really going to earn that much money! 
That's because Google Adsense barely pays you anything. Don't believe me? In my first 6 months of running Google ads, I earned a total of $1 which I couldn't withdraw because the minimum withdrawal threshold is $100! 

How lucky am I! Most major ad networks need 10,000 or 50,000 monthly visits, and that's tough to reach when starting. 
Luckily, Ezoic, one of the biggest ad networks offers a plan where websites with less than 10,000 visits/month can start making money through ads.
Now let's go to the bad news! 4 Reasons why it's time to quit Pinterest!
4 Reasons to Quit Pinterest
Reason No 1. Barely Any Growth
Your account hasn't grown a lot in the past year, and you need to find a way to value your time. 
For instance, if you spend 3 hours a week working on Pinterest and get approximately 5 clicks per day, and you spend 3 hours/week working on your SEO for Google and other search engines but get 20 clicks per day, it means your time is not valuable enough when spent on Pinterest and you might want to stop spending that time altogether and focus on what works.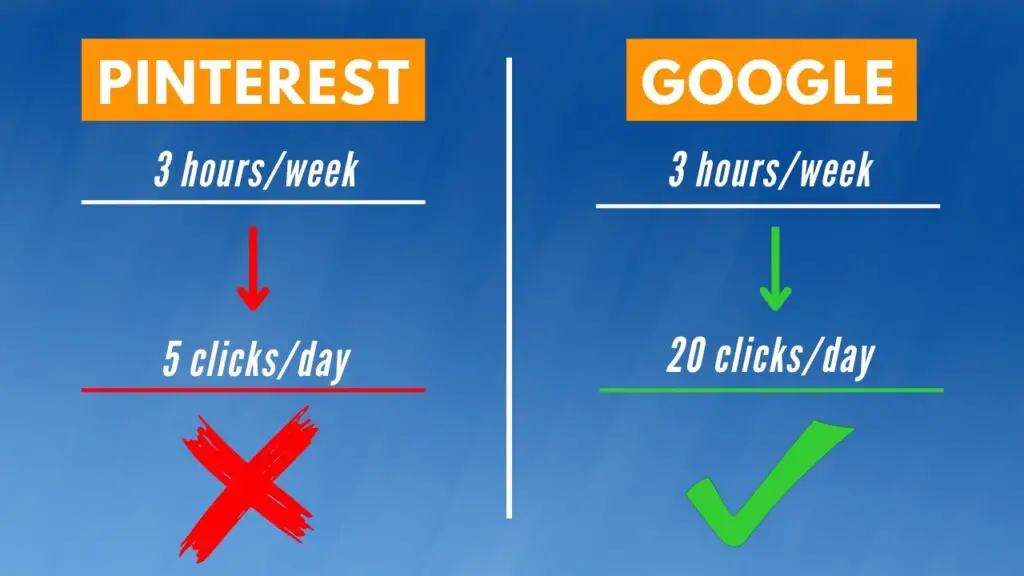 Now the most obvious fix to this problem would be to change your entire Pinterest strategy. 
But if you've done that and still can't see any substantial changes in your daily website traffic, it's time to call it quits!
Reason No 2. Your Niche is Not Popular On Pinterest
Every social media platform attracts a specific type of audience. 
Instagram is famous for connecting with people, sharing memes, and seeing what influencers, actors, and other famous people do. 
Most people use Pinterest for home decor, traveling, food recipes, or fashion inspirations. 
Simply said if you're trying to target a niche that isn't well established on Pinterest, you'll see some growth, but it won't be as much as you'd need to make a full-time income! 
And you'll end up wasting too much time on Pinterest while your core Audience spends time scrolling your competitor's page on Instagram! That sucks!!!! 
Pinterest has over 433 million users of which 67% are women, and 51% of all users are in the age group 25-34. 
If your target audience is part of this demographic, focus your energy on Pinterest! 
I have a ton of videos right from Creating Pinterest pins to Growing on Pinterest to Making sure Pinterest doesn't suspend you! 
I'll leave links to these videos in the description below! Start binge-watching these videos for a change!
Reason No 3. You're an online eCommerce business
Online businesses do well on Pinterest, but location-based online eCommerce businesses don't! 
That is because the Pinterest algorithm works in a way that distributes your pins everywhere. 
Pinterest users often like reading articles, getting ideas for art, recreating their houses, or planning a vacation. 
Let's say you're an online business selling plants or sneakers in California or New York, you're better off using Instagram to grow your business as you can target viewers based on location!
Reason No 4. You're being Suspended A Lot
Pinterest has suspended my account twice, but I got my account reactivated both times because of certain things I did. 
If you want to know how to get your Pinterest account reactivated, I've made two articles talking about strategy & tips. 
Here you go – 
If you're constantly being suspended by Pinterest and your monthly views, saves and clicks are dropping down fast, that's a sign! 
Pinterest is indirectly telling you that your content is not going to do well on its platform. 
This rarely happens, but if you're a victim of this problem, the best solution is to watch these two videos I've made on Pinterest suspension and to read the Pinterest community guidelines and follow them, of course!!!
If you tried everything to re-activate your account, but Pinterest still suspends you, it's time to let go!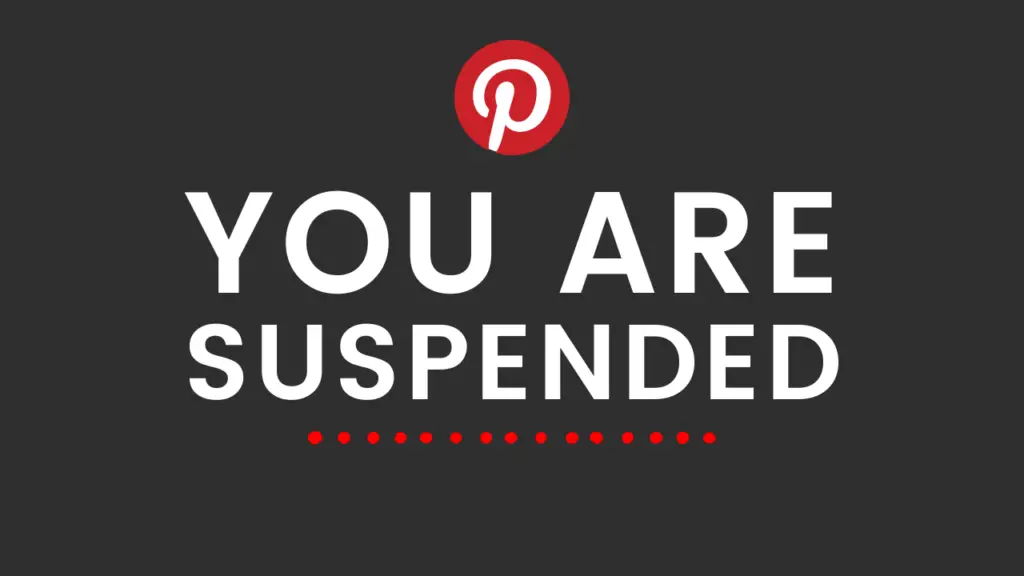 The only time Pinterest doesn't want your account to grow is when you're not following Pinterest Community Guidelines! 
Pinterest takes these guidelines very seriously, and even a small mistake on your end could lead to suspension!
I've broken down Why Pinterest suspends your account and what you can do to ensure you don't get suspended on Pinterest right here!
Check out My Pinterest Account here – Rylan's Pinterest Profile!
Check out My YouTube Channel here – Rylan's YouTube Channel!