Is your Pinterest account suspended? 
I've been there twice, and it's a nightmare, but if you follow the steps I share with you in this article, you can get your Pinterest account reactivated in no time!
Let's get started.
Step 1: Take a Deep Breath In
Your account has probably been suspended by bots that are the Pinterest algorithm. Pinterest constantly blocks users that they think are spam or practice unethical practices on Pinterest.
If you're a good content creator that doesn't do any of these unethical practices, don't worry, your account will be reactivated as soon as possible.
So calm down, relax and have faith in the process.
I was way too furious and sad when Pinterest suspended me for the first time. Don't be like me! Instead, take a chill pill and relax.
Step 2: Head over to the Pinterest Help Center
So here's how you go about the entire process with the Pinterest help center. So the first thing to do is head over to the account suspension article on the Pinterest help center.
There it says, to keep the Pinterest community safe, we may suspend accounts that violate our community guidelines.
If your account was suspended you'll see a suspension notice when you try to log in.
They go about explaining how it all works and why your Pinterest account must have been suspended. Before moving forward take a minute to read all this.
Once that's done, scroll down where you'll find this line – If you think we shouldn't have suspended your Pinterest account get in touch with us.
Once you send in a request we'll take a look at it and get back to you for more information about copyright and intellectual property appeals read our copyright policy.
After that, you have to click on Get in Touch with us. So now they're going to ask us a series of questions which if you answer to the best of your abilities, Pinterest will unsuspend your account.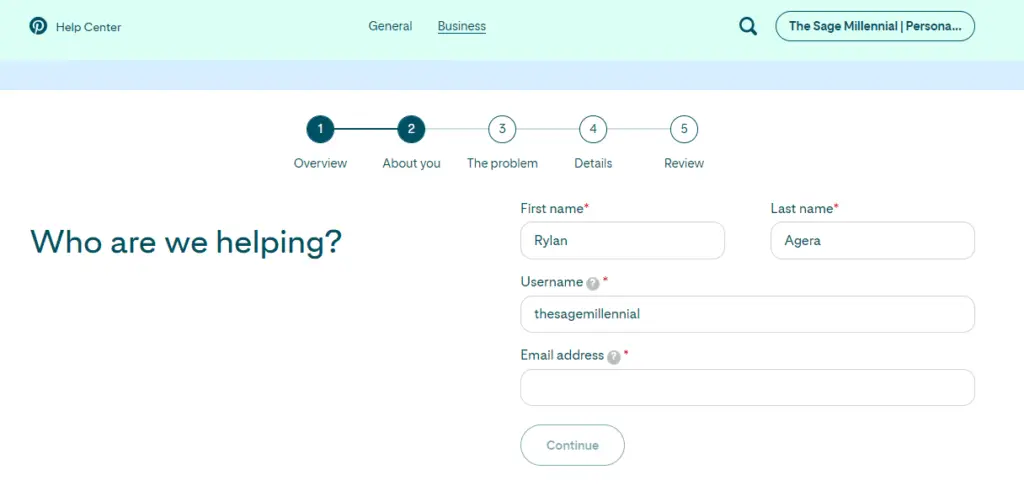 Let's go through that right now. Fill in your first name, your last name, and the username (the sage millennial).
The next step you need to do is to describe the issue.
What is your issue? – The issue is account suspension on Pinterest.
We can write something like account suspension on Pinterest, or my Pinterest account was suspended or Pinterest account suspended.
The description is the most important part that will determine whether Pinterest reactivates your account or not.
So here's what you have to say you need to give them a reason to react with your account.
The first thing you need to say is that you'll follow all the community guidelines and that you've read all the community guidelines.
Tell them that you're sorry if you unknowingly committed any mistakes that go against their Pinterest community guidelines, and get them to believe that you will not commit these mistakes again.
You can also attach images or any sort of proof that shows the Pinterest community team that you abided by their community guidelines.
Try telling them what must have happened and what you'll do to ensure that doesn't happen again.
If you have some images, attach those images. If your account has been suspended, take a screenshot of the suspension message and send that as a form of proof showing you're legit.
Show them the practices you follow and tell them that you follow the Pinterest community Guidelines.
Check out my Pinterest Account here – The Sage Millennial Pinterest.
Once you're done with that, you have to click on what device you are using. Okay, I'm using a computer right now.
What browser are you using – I'm using Chrome, so I'll choose that then click continue.
Here's where you upload the images and your videos.
Once you do that, click continue. If you want to make any changes go back and make those changes.
Then click submit.
I'm not going to click Submit because my account is not suspended right now, but the next time it will be – this is exactly the steps I'll be following.
If you want to go back to any of the previous steps, click on that. If I want to go to the about session, I click, and it'll take me there.
You need to tell the Pinterest community that you're sorry for the mistakes you made unknowingly and that you will not make these mistakes again.
Another tip you need to follow is whenever you're doing this entire process, ensure you're not logged into any existing Pinterest platform.
If you have any questions regarding how to approach Pinterest or any other technical questions related to this suspension on your Pinterest account, leave them in the comments below, and I'll get back to every one of you.
Step 3: Send an Email to Pinterest Directly
We have used the help center to send a message to Pinterest, but as a safety net, we're also going to send an email to Pinterest at [email protected].
Creator support is a separate team created by Pinterest to help bloggers and marketers by resolving their queries asap.
Here's how you go about it – write them an email with the same message as you mentioned in step 2 along with images proof that you did not commit any unethical practices and promise them that you will not commit any unethical practices and follow their Pinterest community guidelines in the future.
Hit send, and wait for a few days. If you're having a hard time creating pins for Pinterest or any social media platform out there you might want to check out canva.
Canva is a free graphic designing platform that helps you create social media content in a fast and easy way.
I use the pro version as it has many additional features like background removals, resizing images, premium templates, and stock images which makes my work much easier.
I've used the free version for years, and if you're just starting, I suggest you use Canva's free plan.
Step 4: Continue Working on your Projects
If you follow the steps correctly you can expect Pinterest to get back to you in two to five days.
It may take longer if you have a message Pinterest stream on weekends as they don't work on weekends.
P.S. If you work on weekends, let me know in the comments below, and hats off to you for your hard work. 
In most cases, your account will be reactivated, and your traffic or growth on Pinterest won't be affected to a great extent.
Pinterest is very sweet when it comes to giving creators a second chance to rock their world, and if you are a genuine creator that creates good content and creates new pins to help users, I can't see why Pinterest will keep your account suspended for long periods.
If it has been more than five to seven days and the Pinterest team hasn't resolved your query (i.e. your account is not yet unsuspended), you should try following these steps again, as these are the exact steps to get the problem solved.
The Pinterest team can skip reading an email or message, and because of this, your account may still be on suspension.
Following these same steps again will ensure this problem doesn't happen again. Also, when you're doing this process again, ensure you're logged out of any existing Pinterest accounts, be it personal or business.
Log out completely and then raise a complaint on the help center, or use [email protected] and use the email address which was suspended by Pinterest.
If you haven't been suspended by Pinterest before, or if your account has just been reactivated, I suggest you read this article where I'll be breaking down 8 mistakes why most Pinterest marketers are getting their account suspended.
Take care, and have a great day!